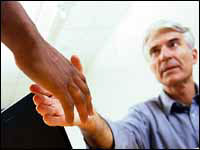 We look for many qualities in the individuals we hire -- the ability to communicate effectively, a high level of organization, strong interpersonal skills, and so on.
Regardless of an applicant's qualifications, we always look for one attribute in particular -- the desire to provide high quality products with excellent customer service. We can train people how to work with clients or run pieces of equipment, but to have passion for customer service and pride for your work takes a unique individual.
If these are qualities you possess, we're sure you'll find a rewarding career with us. We supply our team with the latest technology, afford them the best training available, and provide every opportunity for growth within our company.
Current Openings...
VINYL APPLICATOR
REPORTS TO: INSTALLATION MANAGER

JOB SUMMARY: To apply vinyl decals to customer vehicles and signs as required. To do this in an efficient and effective manner ensuring maximum customer satisfaction at all times.

DUTIES AND RESPONSIBILITIES:

• Apply vinyl decals to customers' vehicles / sites as required. • Report to production manager and admin staff as necessary to ensure jobs are planned and completed on time, to the required standards and to ensure customer satisfaction. • Maintain all job record keeping and timely administration as necessary • Submit tool and stock requisitions in sufficient time avoiding 'out of stock' situations • Adhere to approved application processes • Take personal responsibility for own work and perform quality control checks throughout the application process • Ensure yourself and other staff work in a safe way, adhering to Company safety policies • Respect all Company policies on smoking, mobile phone use, timekeeping, eating and drinking in the workplace, hygiene, housekeeping • Take personal responsibility for learning to operate new equipment and techniques • Interact with customers in a professional, courteous manner and be prepared to offer solutions to problems • Maintain high personal standards at all times • If and when asked to drive company / client vehicles adhering to the company 'driving' policy at all times • Be adaptable and enthusiastic when asked to handle new challenges • Ensure the use and maintenance of all tools / equipment comply with safe and efficient performance • Maintain a good working relationship with other staff members

SKILLS AND QUALIFICATIONS:

• Knowledge of vinyl and signage fabrication and installation, including vehicle wraps. The individual will be expected to be self-motivated and self-managing. • Great attention to detail and accuracy. • Physical fitness as manual handling is an integral part of the role. • A team player with good time management and the ability to remain calm under pressure.
GRAPHIC ARTIST / PRODUCTION
We are currently searching for a talented graphic artist/production person to fill a part-time role. Knowledge of layout, design, Flexisign, Versaworks and Photoshop necessary to be considered. Please contact us for more information.
Outside Sales Representative
SALES-Outside Sales Representative opening for a growing visual communications/sign company. Full time position. Job description includes cold calling and servicing of accounts. This is an excellent opportunity to join the fastest growing sign and graphics company in the Sioux Falls area. Repeat business provides residual income. Rewarding commission structure.
Your experience selling to corporate accounts (marketing and facilities departments) or any of the following vertical markets is plus: hospitals, auto dealers, trade show exhibit builders, manufacturing trade show coordinators, architects/engineers/developers, convention management, or property management.
Requirements:
Outside sales experience or desire to build sales career. Must be able to work with clients on a consultative basis to determine client goals, objectives, and requirements; and then recommend graphic products including signage and digital printed products and services to meet client needs. Ability to generate new business opportunities with cold calling and imaginative prospecting.
Please send or email your resume with references to:
Signs Plus Graphics
601 S. Lyons Ave.
Suite 300
Sioux Falls, SD 57106